The Rap Life

Many of you have been pushing me to make a new addition to the page. I wanted to make one too. It's been a while. College is fun. Here's the shit...
Let's start off with my room. It's in the middle of the hall. I like to put signs up on my door, but people seem to like to write "cock," "gay" and other shit like that on the signs. It makes me uncomfortable. You see my roommate in the background? Are you excited to see him?
We have a sink. That is my closet. I like chips. They are good to eat. I am planning on personally getting a popcorn machine because my idea of everyone paying $5 and getting one for the lounge got shot down. It made me sad.
My TV, bed, fridge and fan. That bed is so uncomfortable. Like jail fool. I don't like sleeping right next to a wall. I am considering purchasing a queen size.
Marshall's bed.
My desk. This is the desk that I kept on bitching about. I used to have a desktop computer with a 21" monitor, and I was scrunched up under the shelf. My head kept on hitting it. It made me angry. So I brought the old Powerbook. As always, Japanese flag and Backstreet Boys calendar.
Over my bed there is another Japanese flag. Under it there is a sign that says Yes bitch, this is Japan. I forget who, but some fool came into my room and asked if it was the Taiwanese flag. Dumbass. You like my pool cues? The top one is stunna, it looks like carbon fiber but it is graphite. It's a Cuetec Jump/Break cue. The bottom one is my Budweiser one. I love pool. However, the day I put the sticks up, they fell down. I attached the hooks by tape, since I'm not allowed to drill into the wall. And then when one hook fell off, I had to take out the other. And when I pulled it off the wall, it took out a big chunk. Not good.
My shelf. I took the bigger one. Isn't it ghetto how my printer is on top of my closet? I like my alarm clock. It's nice.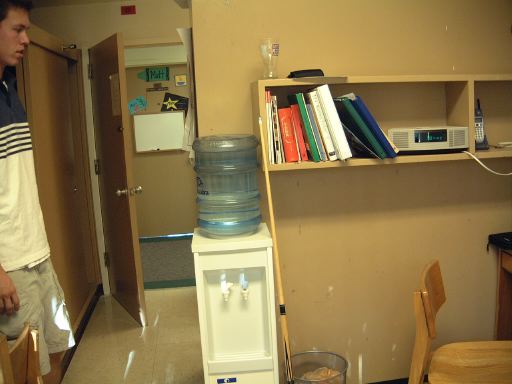 My life. We ran out of the first 5 gallon bottle in literally 2 days. I don't know what happened. So I had to buy another bottle off another guy in our residence hall who you will see later. Do you like James standing there like a dumbass? We want to get a cooler full of vodka or something. That would be thug.
Our bathroom has a tub. Nobody uses it though. It's dirty.
Three showers, this is the first one. I don't like them, cause they're also dirty. Possibly because they never get cleaned? Please don't beat off in them. It makes us angry.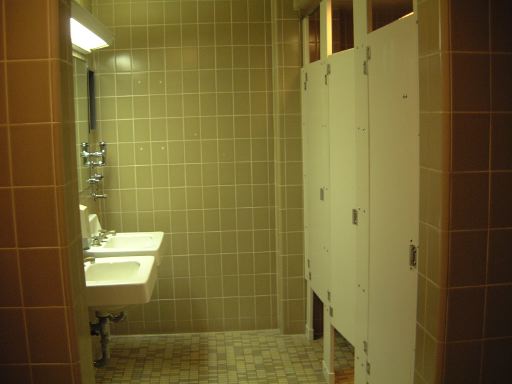 Two sinks, three toilets. The far one is just for shit, the middle for piss and the close one a piss/shit combo.
You can often see me playing pool.
The hall. The people described go from the right down, and then loop around. But I couldn't get everyone! I'm sorey- haha remember in The Substitute when that fool couldn't spell? That was fabulous.
THIS IS MARSHALL!!! My roommate. Best roommate EVER. Thank you thank you thank you for assigning me with him!
Nick lives on the bottom floor, but he is one of my main thugs. And captain of our team. He likes to drink.
Hanley's also downstairs, but he's tite. So I'm including him. He knows Mr. Swen. And I know Mr. Swen. Small world? He's "bewitched."
Chris lives downstairs. Doesn't this fool look like Teddy Boedikker?!
James is my homie. He lives in a single out in the lounge and has an oven. AN OVEN. His roommate is hot. Get it? His oven's his roommate!!! Yes, we are stupid.
Kevin on the right, Nick on the left. They like to drink that bullshit they're holding. And they think they're thug.com. Whateva.
Matt is an intense mofo. He intimidates me sometimes. Only sometimes though. He is a personal assistant to athletes on the San Francisco 49ers. So it's like some fool goes, "Matt bail me out of jail" and he goes, fo sho. We're going to Britney, right homie? Backstage dogg!!!
Shehan is Matt's roommate. PA fo life. I call him Sri Lanken delight. I need to make a song about it.
Andrew has massive beat that everyone can hear while he's playing games and shit. It gets annoying at night. He likes to own many knives and guns. Crazy.
Kevin on the left, Jason on the right. Jason is Andrew's roommate. Kevin is from a wheat farm in Idaho. I was sad it wasn't potatoes.
Joel is getting into knives and such...
Jake didn't want to have his picture taken or something. It made me sad. He was sleeping. We call him DJ (Dirty Jake). Yia yia.
Doesn't Tom look like Matt Yarmey? My fucking goodness. He's a surfer.
Mr. David Sage. Always wearing the white shirt. From the Mercer Island.
Sargon's the Mr. Strongman. Look at those guns. Stay away from that milk though yo.
Never talked to Chris in my life. Hardly ever see him either.
Matt Cohen is VDT. Fo life. Mercer Island. Yes, no, maybe so?
Andy is Hillsborough. We call him Goofy Andy. One of the goofiest kids I eva did meet.
This is Stu.
When I saw this right across the hall, I was scared. It made me nervous that I was right across hall from RA. Nothing good can come of that. Or so I thought.
This is our RA Matt. He's tite. And won't write yo ass up.
Will also represents the PA and Paly. He drives a supercharged Integra. But it got totalled. That isn't cool.
Eric is pimping this one girl Andrea.