20 02 Olympics on 22s

My first Olympics! I was so excited to go! For those of you who read my away messages, you know that I was planning to do many things, including 1. drinking heavily with the Japanese national team, 2. finally seeing my dad work, 3. posting with Nick and the rest of the 801 crew, 4. skiing and 5. buying ridiculous amounts of goods and memorabilia at Bud World. Sadly, I only got to do 3 of the 5. Which is pretty good I guess, but I wanted to do all. Which ones you ask? Well, read on my friends.

Thursday, February 14, 2002
We left from San Jose International Airport via Delta because I tend to like both. Whenever we go anywhere, my mom always gets checked. It's such a pain waiting! But I guess patience is a virtue, huh?
Me at the Salt Lake City International Airport. I love Fischer skis!!! Just like I love mustard!
What a nice family. For many of you, this is the first time you've seen my dad, right?
Each country gets many many team Suburbans (my dad's was a Z71 edition). This is my dad's. After the Olympics, they are selling them at a low low price of $12,000.
If you are an avid reader of The House, you will remember that I previously came to Utah to look at houses for the team in January. This is one of the houses, and some of the people that live here for the Olympics. I do not know any of them except for my mom and dad.
I really wanted to meet some Japanese athletes. These two do snowboard GS. I saw the one on the right (Ran Iida) race! Yeeeah! It was sad because most of the team had gone home the day before. The Japanese Olympic Committee is too cheap to let them all stay for the whole time I guess. I wanted to drink heavily with these two, but my dad said no. Boo.
The stadium. Taken outside Nick's second house.
This is the Saint Provo Girl. I have a poster of her on my dorm wall too. She actually signed Dean's. We will meet Dean a little later.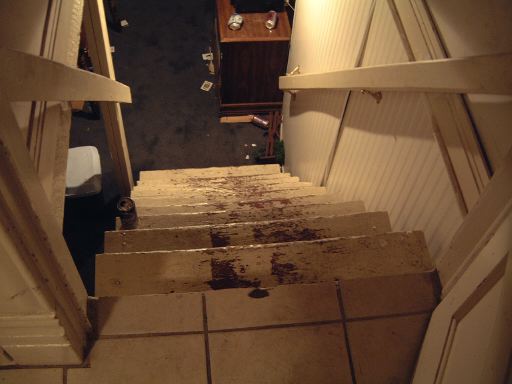 The steepest stairs I have ever seen in my life. They made me so nervous.
Me and Nick in front of the Olympic flame. Oh my Utah is cold! Which is kinda good I guess, since you lose weight.
Yeeeee!!!!! Bud World!
They check all your stuff, like at the airport. It's weird how they make me press buttons on my cellphone but not my camera. The camera is bigger, it would be easier to house a bomb in.
The Budweiser Clydesdales. What's that you ask?
They are the horsies from the Bud commercials!
The portable bathrooms without any potable water. The worst places in the world. They definitely needed more.
Honestly, Bud should sponsor me because I like them so much. Like their sign, I am a proud supporter of their product.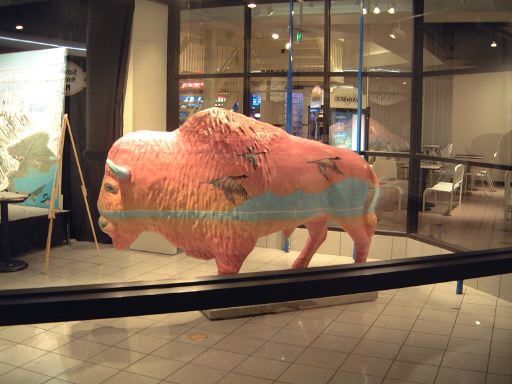 Nick wanted to show me downtown so we cut through a mall to get warm. I stumbled upon this weird creature. What is it?
Nick and Marshall being dumbasses with another example of the buffalos or whatever they were. There was an art exhibit or something.
The Mormon temple. The Mormons like to produce very good looking girls. it's kinda nice.
You can't really see it, but there are big Olympic signs on all those buildings.
Again, you can't really see this either, but it is tite. They have lit Olympic rings on the side of a mountain.
Nick describes this as the "ghetto-fab" club. I went in to take a look, and yes, yes it is. Thugs were free-styling and other thugs were "raising the roof," ya heard me?
Friday, February 15, 2002
Woke up at 6:30 am. This is the security for the Olympic venues. With all this security everywhere, I feel safe. And that is a good thing. It makes me cry to be nervous or anxious. Paxil anyone?
These lines take a very long time.
Nice! We beat the mob!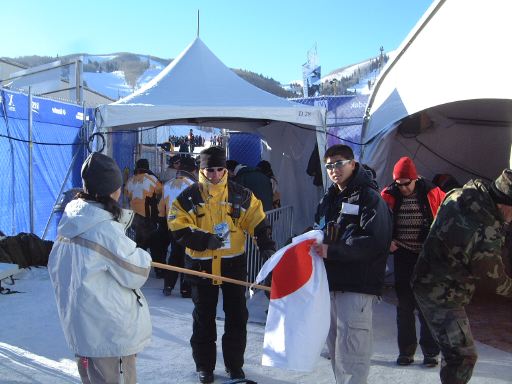 Yeah, I got seriously hated on. They said my flagpole was too long- it had to be under 3 feet. Shut the fuck up. Once I got to the venue, I saw at least 7 people with much longer poles. US and Swiss flags. Some racial hostility I believe. According to Jake, the Olympics are for countries to build bridges. This isn't very bridge-building material.
This is my ticket for Men's and Women's Parallel Snowboard GS. My dad was an angry man when I bought this. He's like, if you told me earlier I could've gotten them for free. Well shit. I didn't know I'd be off. Yeeeeah! I'm the biggest pimp alive! I'm finally off!!!
Right in front of the venue, obviously.
It was like a big industrial maze. It was kinda freaky. Seeing as this is all temporary.
Please make sure you don't drop anything through the seats. The only thing for shizzle is if you drop any nizzles, you will never see them again.
My view.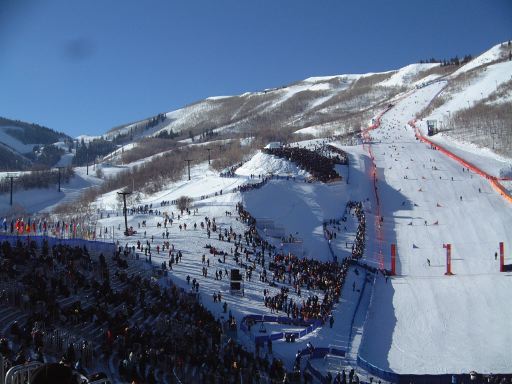 See how there aren't very many people right now? They're all going through security.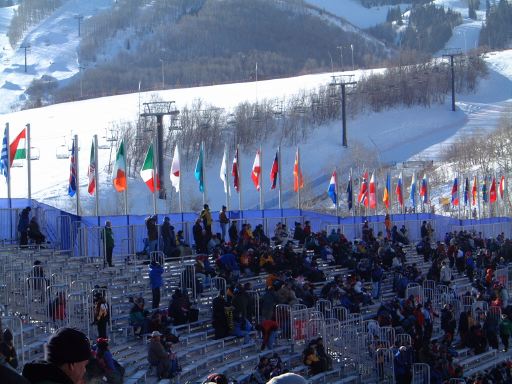 Same thing.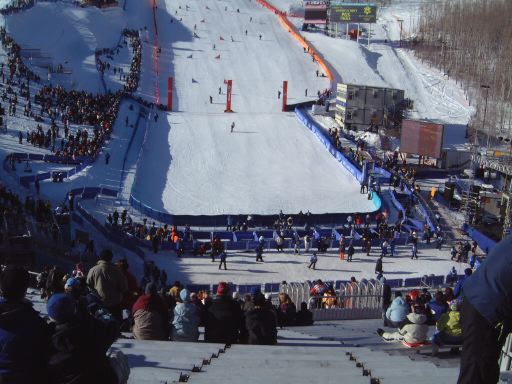 That is the coach/media place to post. I think I'll go down there and see my dad.
This area is reserved for Japan.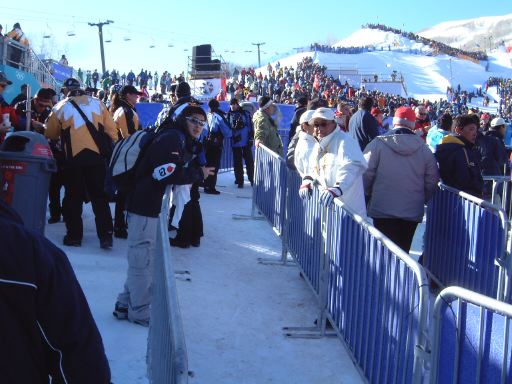 Here I is chopping it up with my dad. I'm surprised anyone is allowed to go down that far. I wanted to climb over the little fence and post with the team, but I don't think my dad would approve.
You see that big screen TV thing? There are two; the other is up the hill aways. Since I rule, I was on there like 3 times. There was very little Japanese support (since there was only one rider, not favored to win). So I was the only one there with a big Japanese flag. Yes, I rule. Don't you think?
See, it filled up!
The guy on the left is from a big Japanese newspaper. My mom and I are going to be in that newspaper for that night cause we're both stunners of the #1 variety. The guy next to him was really weird. He came over and was like is this my seat? And the newspaper guy just moved without saying anything because he didn't want to deal with any bullllllshit. Then the guy came and sat right next to him, even though there were many open seats where we were. I started cracking up.
I like bunnies, so I gave her a hug.
Yeah, this is what happens when you're a little bitch like me and you hit your dad skiing. Fuck, I've never hit anyone before in my life. I've been hit before though... My dad fell and hit his head. My ski popped off and I slid down the slope like 150 yards. It wasn't too pinner. We had to call the Patrol and they took him down on one of those sleds.
This is the patrol office. Nick's boots are very tight, and take 20 minutes to put on and take off.
Nick again was a very nice guy and waited around for like 2 and a half hours for my dad to get checked out. Nick tends to do a lot of waiting for me. Thanks man- I owe you like 10. They took 7 X-Rays and were like, um you have to go to the hospital because we can't get a good X-Ray. Great... We ended up spending around 7 hours dealing with nothing. Better safe then sorry I guess.
5:00 pm. We still could've been skiing if I weren't such a jackass.
So empty and desolate.
We came to a party before going downtown. The guy in front was hella tite; he somehow attached a 12 pack to his side. It's like a gun, but better. From left to right. I don't know, Dean (the one with the poster and who can drink like no other), I don't know, Homer, I don't know, Tally.
Tally again.
This is Britney and her friend Joey. Um, yeah...
Here's another picture. He is one strange looking fellow, no?
We had to stop for some more refreshments.
Nick took this picture because he thought these girls were cute. They were like, here take a picture with us holding beer to show that us Utah girls drink! Uh, ok...
First time buying up! Cashier: "What's your birthday?" Me: "Uhh... 4 um 27 uhhhhhh 79." Cashier: "Mmmkay." I didn't even show ID!
This corner was our friend tonight.
First time drinking in a car. Lots of firsts tonight! Nick is trying to open a bottle using another, not knowing they are twist-offs. Dumbass.
The car and Tally.
This is one of those signs on the building I was telling you about.
Tally's dad owns some Quizno's so we went in for a picture.
The night truly begins. I pretend like I am a Japanese tourist, and go around taking pictures with people. Ahahahahaha it's soooo much fun! I love fucking with people. I wanted to wear team gear because then I REALLY could've fucked with everyone. But my dad said no. I bet he thought I would do something stupid and embarass our team. Good thoughts.
Nick, like my mom, tends to get checked a lot.
Oh, my dad skiied in those Olympics. And '76- Innsbruck, Austria. God I love Austria. And Germany.
They padlock all the close ones. It's very Mr. Shady.
This bitch was taking a shit and invited some random guy to come watch her. Um, isn't that kinda weird?
She's very strange, mmmkay?
I don't even know who these guys are...
Me and Mr. T.
Tally, Me and Nick. Of course Bud Lite.
Security and two random girls.
These guys were so goddamn belig. "Yeah Japan guy! Yeah Japan guy!"
I found thugs! Looking back on it, I should've asked the guy on the right if I could wear his ice. I think he would've hit me. And me no likey.
Then these non-thugs wanted to meet a foreigner so I let them in our picture.
These girls were pretty hot. And they were seniors in high school. Can you believe that?
Then they were like "Oh you're soo cute. Give us hugs." I was like, hrmm. Ok.
Then in the parking lot this bum comes up to me and starts talking to me. Why do I attract all these strange people?
We posted for a bit more until they stopped serving at 1. It pisses me off how 16oz. is $5. But I was pretty belig by that point, so I didn't really care. We went back to that party and fucked with more people. But I don't have any pictures. I sorry.
Saturday, February 16, 2002
Utah water tastes like shit. So we have to buy bottled.
This is the room I stayed in at Goldwin house. Did you know Goldwin makes Helly Hansen, The North Face, Ellesse, Champion and more? It's kinda interesting.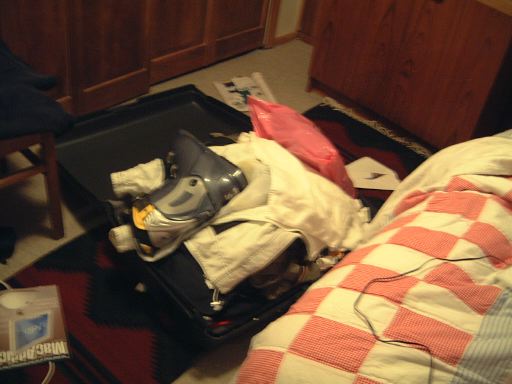 It was an engineering marvel packing it up, packing it in. What song is that from? Do you ever notice that bags are always easier to pack when you're going somewhere, and coming back it's impossible? I like noticing things. How many of you other than Jenn have noticed that when you have a playlist on random, you will always hear a couple songs (or more if you have a big playlist) all the time. I believe it's not truly random.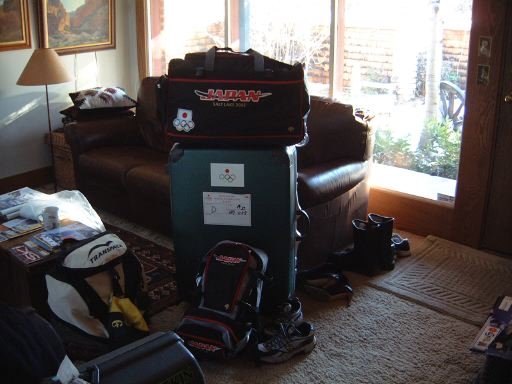 Each team member gets all this. God there is so much stuff it's ridiculous. You will all see me wearing it.
Me no likey to trip on ice.
The airport was a fucking zoo. It was like an hour and a half to even get checked in. And I didn't have that long. I asked a couple people if they would let me cut for $10, but they were tools. So we went outside and did curb-side. However, it never fails. Whenever I come to Salt Lake somehow or another I never leave on time. The first time was a big delay, then me missing a flight cause I'm a retard and then this. Too many fools leaving at the same time. So we got a 2:50. That's over 4 hours of posting. It wouldn't be so bad if I didn't have to drive later because they have Wasatch and Squatter's at the airport. Squatter's has very good beer. As does Wasatch. So I posted and pondered. I wonder- what do people blind since birth dream of? Do they dream of rain? And then when we got back to San Jose, at the pinnacle of my stupidity, I forgot to get our baggage and left the airport. What is wrong with me? Well anyways, this trip ruled. Peace easy.
This is a random picture. I didn't get to see Strolla and Heyes on this trip. They are cool, so I decided to add them!