The Russian Personal Ads

I love Russian personal ads. What can be cooler than seeing a bunch of hot women who one can marry just by paying for her plane ticket and a small "finder's fee" to the service where one found his mail-order bride. It is my goal to find someone who looks like Anna K. er, Anna Kournikova. Not to marry, but just to say lookie here! So when I'm bored, which is quite often, I look at them. Some may call it a morbid hobby, but hey! I think it's cool, haha. One day when I was especially bored I bookmarked a bunch of girlies who I thought were pretty good looking. Then James filtered it, so here is the list. There was one girl named Lena who I found before who was really really hot but she is longer listed. I imagine someone has imported her here. She was almost Anna K. caliber. It was kinda nice. I have done you all a service, and have linked their ad to their picture. Click on it to be taken there. You too can marry one of these women. Good luck Chris.
Maria Sotyanova
I would like to say first that I have a birth defect &endash;my right leg is thinner from my knee to my ankle. I don't have any problems with walking or whatsoever but it's far away from attractive, I don't wear short skirts or pants. If it doesn't bother you, write me! I am looking for somebody to spend my life with and not just a chat partner. I believe I could bring a lot of happiness in your life. My greatest passion is travelling, I read now and then, I like to go out in the evenings too, dance a bit and have fun, play some piano, I've always wanted to take guitar lessons but never had the time actually, I might do it in the future. I am not much into sports. I have a very light-hearted and open nature. I never spare the truth, no matter how painful it might be, I am outspoken, communicative, independent, extremely emotional and passionate.
I would very much like a man to be able to share experiences, to listen to my opinion and to respect and accept it. It would be great if he's an open, sociable guy as I don't like to talk just to myself.
Anastasia
I'm sincere,cheerful,sociable,inquisitive. I love children and close people. I'm a one-man woman. I'm romantic,stable in my feelings. I strive for improving of my soul and body,for harmony in relationships with my close people and with the world around me. I'm keen on photography,design of clothes,painting,reading,cooking and sport. I like to read French classics books. I prefer to listen to Roxette, Sting and Mozart. I like to dance and meet my friends. I go in for tennis and volley-ball. I prefer the dishes of Russian and Mediterranian cuisine.
I want to meet a man of 30 years old or older,having higher education. He should be intelligent,sociable,cheerful,sincere,sensual,steady and purposeful. I'm looking for the serious relations,based on the partnership,love and friendship. I think that the main things are trust,sincerity and entire mutual understanding. It's necessary to learn best things from each other. I value family and marriage.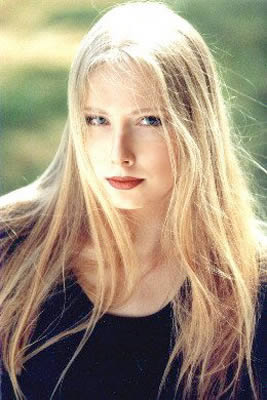 Maria Berezina
My interests: I like cooking, knitting, reading, travelling, and sports.
My personality: I am kind, charming, womanly, sexy, soft, patient, educated, gentle, and careful.
PARTNER REQUIREMENTS
Partner_age: 25 - 55
Race: White
I am looking for a kind reliable man to have a family with.
? (Isn't this Rebecca Romijn-Stamos???)
...if you want to find YOUR DREAM - then you find ME! So you read this text and you search woman for you, for make all your dreams and wishes real, to love her and to know that she love you too. You look someone special, not as all. Someone good and clever, someone who can give you all time and who can love only you. Who search her ONE MAN too. Maybe now it's time to stop your search and write me?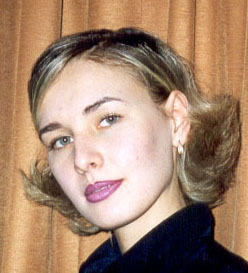 Julia
Have you ever dreamt about crazy and passionate romance? About everlasting happiness? I'm a person that adores fun and life ... and the only thing I lack it's someone to kiss in the morning, and to hug in the evening. Someone that could be the Only Man. I'm easy-going and if you are sincere and open, I'm waiting only for you, my dear!
Olga
I am a student of the Institute and will be a manager in 2 years. And I also work as a model. I like sports, dancing, reading, music...sweets:)
Sasha
So, as you know, my name is Sasha. I am 25 and live in Ukraine. Telling about my character, I should say I am responsible, reliable and serious. But it doesn't mean that I don't have a sense of humor and don't like to have fun. People enjoy being with me, they trust me because I always keep their secrets in the safe place -inside myself:-)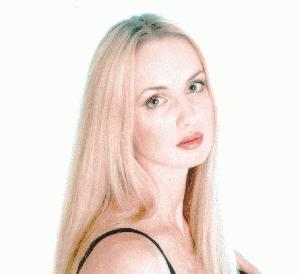 Victoria
I value in people sincerelity, intelligence, attantivness, activity. I have a lot interests: reading, cconcerts, dancing, travelling. I an deasy going person and like to laugh. I am always sincere aand opend with people around me. I am sociable and have many friends. I like outdoor activities, nature, sea, animals.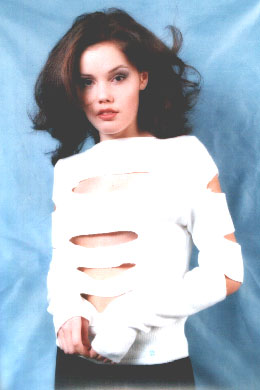 Dinara
Wow! internet is amazing thing: it connects absolutely strange people. I am one of them. I live my life it is enjoyable and funny. I have a lot of friends,lovely family and not bad character. at least, my close people say so:-)
Elena Kianitsa
While I am young I look on the whale world with wide open eyes. Every thing looks great for me.I want to know what the other world is and would like to find a special person for life. I would rather say a life partner.
Janna (Um, isn't she on "Undeclared?")
Well, I am strong but nice. I know what I want and one of my characters is confidence. But at the same time I am tender, caring and understanding. I am loyal friend and supportive partner.
Olga (Doesn't she look like Katie Holmes? Yeeeah!)
I am really serious in my search. I know , that somewhere outthere must be the man of my destiny, only waiting for my sign to appear. Are you the one? Let us fund out. I hope that you are as serious about this just as I am. If you feel that there is something in these words that calls out for your soul, please do write. And we will see, where the river of life will take us. Hope to hear from you soon.
Svetlana (One comes across this name a lot when doing Russian personal ad research, mmmkay?)
I will be glad to meet you in person, if you are looking for your soul mate and dream about happy family with children