A Walk To Remember

Yeah, I'm very sore and very burned on my neck. I thought I could update the house as soon as I got home last night, but I didn't get very far. Not too stunner of me. Since Ted came up with the idea of walking to San Francisco, he named the page. The title of Mandy Moore's film, it brings forth images of sadness and hardship that will be remembered for a lifetime (assuming you don't get Alzheimer's). Well here's the deal. We walked to Chevy's in Embarcadero Center from the Menlo Park train station. Yes, you read correctly, walked. "Why the fuck are you doing that you numbnuts!?" you ask? I dunno, what else is there to do when you are the 4 greatest people alive and have accomplished so much?

Note: Below each town sign, there will be a fact and a maybe fact, fabricated by yours truly.
Here's our route. The map said about 32 miles, however we got lost so it ended up being longer. Much longer.
Menlo Park Caltrain Station, July 23, 2003. Notice the analog clock. For those of you who cannot yet decipher time, it says 8:00. And that's in the morning.
Fact: The Menlo Park station is California State Landmark No. 955, the oldest California station in continuous operation. Source.
Maybe Fact: Menlo Park is the greatest town in the world. It is where the everything is right and the people are good.
This is the longest block of our trip.
Although not a town, Fact: The "King's Highway" was started in 1769 with the founding of a fortress and a Franciscan mission at San Diego. Source.
Maybe Fact: El Camino is home to over 6,800 porn shops, three of which we saw on the walk.
Hey! We're already in Atherton!
Fact: Atherton was originally called Fair Oaks, and even then people who lived there thought they were special and didn't want to be in cahoots with the greatest town in the world. So they became incorporated as Atherton (in honor of Faxton Dean Atherton, one of the first property owners) in 1923. Source.
Maybe Fact: If one could quantitively measure people's egos, this small town of 7,800 would demolish any competing town or city.
This is the first time I had to run across the street to get a picture of the sign.
Fact: Starting before The Great War, US and German researchers found that Redwood City is at the center of one of the world's three best climates, along with the Canary Islands and the Mediterranean Coast of North Africa. Source.
Maybe Fact: Redwood City boasts some of the finest Mexican food anywhere.
See, you have to dodge cars or they will hit and paralyze you.
San Carlos, going strong.
Fact: The San Carlos Airport was once known as Cooley Field. The original San Carlos Airport was located west of 101 and in 1952 was relocated to where it is now. Source.
Maybe Fact: For every 5 males born in San Carlos, at least 3 of them are named Carlos.
This is a looong town, but home to Toto's, one of the great pizza places. If Toto's and Amici's could team up, with Amici's supplying the dough and Toto's the rest, it would become The Greatest Pizza In The World, the 9th Wonder of the World.
Fact: In 1931 when deciding whether or not to build a dog track, opponents publicly stated that it was backed by Al Capone. In the end, the shit was built. Source.
Maybe Fact: Belmont got its name because the original settlers were obsessed with bells. They lovingly handcrafted them and sold them on eBay until shut down by the man.
Taken near 24 Hour Fitness, home of champions where I work out everyday. Please don't stalk me.
Fact: St. Matthew's Hall was opened in 1866 by Episcopal Reverend A.L. Brewer, which attracted three Hawaiian princes. Like Bammer. Source.
Maybe Fact: The little train in the park was donated by none other than General Tom Thumb of P.T. Barnum fame.
By this point we were feeling good, thinking we'd be in San Francisco by happy hour (5pm).
Fact: There are 1,735 street lights. Source.
Maybe Fact: Most people in the Bay Area do not know how nice Burlingame is, with all the nice shops on Burlingame Ave.
Retarded, we went towards the airport which significantly lengthened our stroll.
I decided to hire some models to liven up the pictures.
Fact: Darius Ogden Mills built his country estate, Mills' "brae," or rolling hills, during the 1860s. Also, SFO was once known as Mill's Field. Source.
Maybe Fact: More lightbulbs are purchased by the people of Millbrae each year than by the people of San Francisco due to a sick obesession and something in the water.
Walking by SFO, we thought we would get to walk on the 101. Oh this is going to be great I've always wanted to walk on the freeway. But it didn't happen here...
Look how close we are to that jet! The FO stared and waved at us!
Our first break.
Steve thought he could jog-walk the rest of the way, but he was mistaken. I knew that then, but it wasn't until later that he agreed with the fitness expert, Dr. Chiba.
Fact: During WWI and WWII, there was a considerable shipbuilding industry. Now it is a "well-balanced community of industrial and residential areas." Source.
Maybe Fact: Nobody likes living in South City. That's right, nobody.
While these punk bitches were lying around, I was doing important things, like trading stocks on Wall Street and becoming a better person, Tony Robbins style.
See, when Ted gets excited he defecates. And that doesn't go well with the ladies as you can imagine.
Here we are walking on the 101. See, it was either this or taking a huge ass detour. Don't lie, what would you have done? More importantly, what would Jesus have done?
Trouble lurks...
Fact: San Francisco and the people of Brisbane once argued over garbage disposal. After the big earthquake in the early 1900s, San Francisco needed a place to dump the debris, and used Brisbane as a dumping ground. Source.
Maybe Fact: For fun, the kids of Brisbane go to the Subway at the strip mall on Friday nights. Hey, it's always all you can eat Pastrami for $5 there.
Oh, I didn't know! Apparently some motorists saw us walking on the freeway and called the 5-0. They thought we were jackasses and let us go. Three minutes later another CHP officer pulls us over and lets us go. Then another CHP car flies by us, the first CHP officer talks to the new one, and he comes out asking our names. Probably so they'd take us to jail if we were on the freeway again. I don't see the big deal, we were on the shoulder!
This is a coincedence, since we're about 7 miles away from the destination!
Holy fuck my feet hurt.
Fact: Daly City was first settled in 1906 by refugees from the San Francisco earthquake. The Cow Palace was where the 1964 Republican National Convention was held. Now the only reason people go to the Cow Palace is to see Sesame Street on Ice. Yes, I went. Source.
Maybe Fact: Percentage wise, there are more Asian people here than in Asia.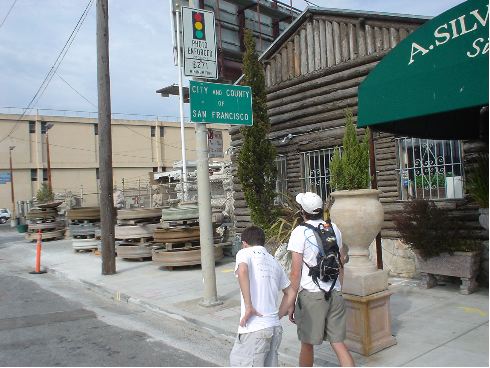 Oh yes, we are finally in the city. But the city is huge. To save time we had to walk on 3rd which was ghetto. Ghetto as in inner EPA ghetto. Ghetto as in I was like holy fucking shit this is ghetto.
Fact: Joshua A. Norton, self proclaimed Norton I, Emperor of the United States and Protector of Mexico, posted in SF. What a fucking great guy he is like me, naming himself! Source.
Maybe Fact: Whenever you mention San Francisco to an outsider they will always imagine the Golden Gate Bridge or Alcatraz. Nothing else. I guarantee it.
Outside of PacBell Park. Oh Lord! We're almost there. Usually I don't give money to bums but this guy was funny. He said he was from the US Negro Cheeseburger Foundation. Asking him what they did, he's like, "Well, this is the United States, I'm Negro, and I'd like a cheeseburger." How can you deny a genius like that money?
After talking with some more cops who thought we were idiots we finally managed to get here. See the red circle? I see the Chevy's sign! Oh this renews my faith in me.
We're here! We're here!
About 11 hours and 30 minutes later. This is with maybe 45 minutes of rest total. God we are so sick. Beat this time, you get a prize. The prize is a blackjack. To your face.
Apparently on New Year's when I saw Emmett with a hat I had to have one too. So I stole them from the hooks. I found it amusing that I didn't remember that.
Mista Ted is MBP. Most Burned Person.
Steve gets the MRWP. Most Ridiculous Walk Person. This man could not walk right. He was limping/hobbling, I don't know what to call it.
Finally, Emmett gets the MDP. No, not the Most Drunk Person. Most Dead Person. We honestly thought this man was going to die. He also thought he wouldn't make it. And what is Sir Y? I am #1, don't be absurd.
At the station (where we missed our train by literally a minute) this drunk guy comes up to us and goes, "What the fuck is with your hats?" He dubbed us the Cuatro Amigos and offered to buy us tequila. Sadly the bar was closed, but he gave us some of his brandy that he'd been hiding in his pockets.
Home! At 11pm. We are so sick. Goodnight!
July 24, 2003