Fucking School Has Started

So. School has started. Junior year, two more years until we become real people with real problems and real responsibilities. Have you seen "Hey Ya" by Outkast? If the song was better it'd probably be one of the best music videos, ever. Without further ado:
Ted and I were on the 280-S going to look at timepieces at Tourneau when we saw this fire near the Alpine exit. There were 3 separate fires and you could feel the heat. Exciting.
I was sitting there plucking my eyebrows and saw what looked to be a big twig moving outside. I went to investigate and this was the offending worm. Pictured is a standard pair of tweezers so you can gauge the size of this monstrosity.
You're kidding me. Big William Most, the "30 year old scientist," has a fucking Segway. I had to see it, so I begged my way into riding it the day before this man left for Harvard. Photos courtesy of Nick Reis.
It was everything I dreamed of, and more. I really really want one to ride one around school. How much of an ass would I look like riding one of these around campus?
A video of me turning around and around like a dreidel at Hanukkah.
Have you ever been to IKEA? It is horrible. First it is so crowded they have the po-lice and private security working the traffic. As if East Palo Alto can afford to have officers working the flow of motorcoaches and not working on the trafficking of drugs. Anyway once you get in you feel like you're in the Matrix and you are no longer a human being, you are a piece of shit. Everyone is milling about looking for materials materials materials. Sweden- you've brought us Abba, you've brought us the A*Teens, why this?
Believe it or not, I found this in a bathroom stall at LAX. Even in SoCal they realize how great Menlo Park is.
In LA I've seen all the sights, the star walk, Beverly Hills, the Hollywood sign, Venice Beach. What else is there to see? Nothing. So my ma and I went to the zoo. It was the worst zoo I've ever been to- they said they had koalas, but after 30 minutes of looking into the pen I saw none. I did see wallabys and a porcupine though. Fucking LA zoo you owe me $18.
From the balcony of Nick's friend Kenny's apartment. See LA sucks enough with all the traffic, but now they got the po-lice taking everyone off the 110.
We had to go back to USC, but only had a pickup. I didn't want to ride in the bed, so Nick and I said we'd go in the cab. We were called pussies. It's OK though- if all it takes is being called a pussy to avoid paralysis, that's fine by me.
Nick and James on the roof of SAE at USC. James just got a gold stud in his ear. He looks like he's from the 80's. In Miami.
Greek row from the roof of SAE!
This is most likely the best picture of me and Nick ever taken. It'd be background quality, if it weren't so fucking dark.
Del Taco at 3am. We waited here for an hour. No joke.
How cute is my kitty Miyago?
Me and Lee. God damn I am so good looking and cool in Burberry. Actually, in anything.
Taft started drinking at like 10am and was feeling like shit.
Dirty ass Huens urinating where all the ping pong balls end up.
I'm the bar tender. Here's Fresno Mike.
Oh we got Mr. Ben Taft, Jenna and Andy. What a good looking group of young people.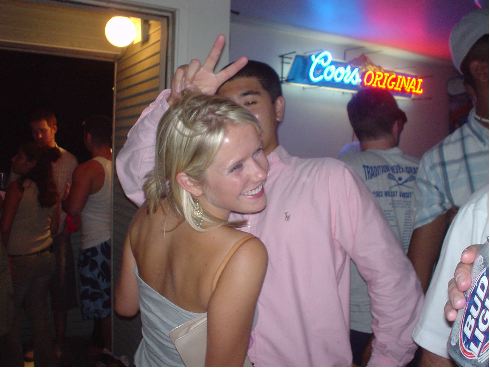 Jenna and I made an agreement where we had to get a picture where both of us look good because previous ones have been kinda iffy. And here I am wearing my pink polo YET AGAIN.
I don't know about this one, I look like a sleazy pimp from the 80s. In Miami.
I don't know about this one either. I look like I did not develop mentally. But I think Jenna looks good. Don't you agree?
Sara looked like a total tool riding this around campus.
Big Dick Ben and our good friend Nizzelle, watching Sara and pondering if they should pretend not to know her, thereby saving face and lots of embarrassment from the general public. Whatever, Ben's big dick can handle anything thrown his way, and he is not afraid to whip it out and use it on someone.
Kaitlin is ridiculous she can chug almost as fast as Dr. fucking Chiba. And only a freshman. My lord.
So we went to Fry's and we had to wait a long time so I watched these two Asians playing Dance Dance Revolution. They were so good I almost crapped my pants. I wonder how much you have to play to get that good. Fucking Asians.
We had a margarita party. 2 handles in each side. The shit was too sweet though it made me want to throw up after 2. So I stuck with my main man Buddy Light for the rest of the night.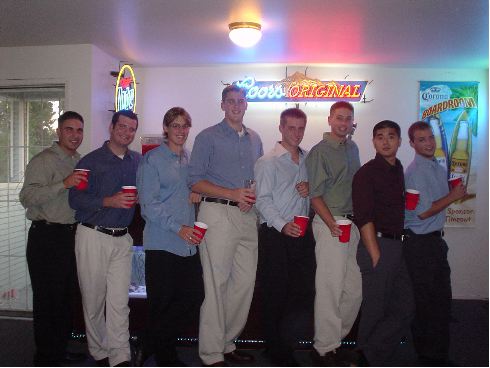 Here are the fine looking individuals of Ice House sans three folks. Missing in action are my main man Huens, Lindsey and Sierra. Don't worry, there will be an update to The House soon with everyone on here. From left to right- Charlie, Bric, Dallas, Benton, Leland, Big Dick Ben, Dr. Fucking Chiba and Fresno Mike.
Our party was invite only, and we told people to come around 6. Even at 7 nobody had shown up, and our true lack of popularity was beginning to show. Then people began to show up fashionably late. Good times.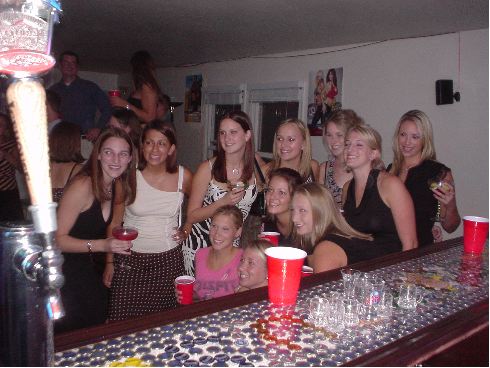 Some nice ladies that were here. At the beginning there was an intense girl/dude ratio, however some felt sleazy and invited more dudes.
Here's Huen's big ass with his GBGH money clip. And for those of those still not in the know, it stands for Go Big Or Go Home.
Ms. Nizzelle and Ben Taft.
Erin and I matched, so we needed a pic. And notice her flower in her ear, is she from Hawaii?
Thank you Ms. Worth for the gin, vodka and tonic.
Lindsey's birthday. Salut!
After a few hours, this was all gone. At around 9.
I gave Huens a beer to hold for me and he decides to pop it in the bathroom. And not drink any of it. Fucker.
This is what I saw when I came into our room. And no she was not waiting for me, I think her and Leland were spooning. I felt bad walking in, but a very important man needed his sleep. Good night!
September 25, 2003