For All That I Am

I won't lie, I've been having bouts of insomnia so in class you will find me dozing. I don't know if it's a physical or an underlying psychological problem. Hopefully this will end soon. And another thing- if someone you sleep close to snores, buy him/her those Breathe Right strips. I don't know how a piece of tape placed strategically on the nose alleviates snoring, but it works. That's all my advice for now. Peace easy.
Two avid readers of The House, reading The House at the same time. I often wonder how many random people have seen it.
So I got extremely tired of sleeping on the floor and bought a queen. When the dudes came to deliver it, one of them forgot his coffee mug on my desk. I didn't want it, so I put it on the kitchen counter. Conor comes in a few hours later and yells, "Smell this!" It had whiskey in it. Whiskey.
Wednesday, January 14, 2004
Homoerotic Ben, taking spy shots of Leland bending over and showing his sweet, sweet ass.
The signature move by two J. Sloans- saunter into a party, boldly look around, pronounce the party lame, and then walk on out. Just kidding J.
Steve came to drink a little before he heads back to Sweden, spitting game at SC ladies.
Naturally, birds of a feather flock together. BBBBBCAWWW!
Do you like Meredith with short or long hair? And would you rather have it dark or light like before? I definitely prefer short and light. And what about Lindsey? I wonder what she'd look like with short hair. Have you ever wondered what people would look like with different hairstyles, like a girl with a buzz?
Oh man I have the funniest quote but I am forced to secrecy like a CIA/KGB double agent.
Who made it so that the popular thing to do for group picture taking is crowding together and smiling at the camera? I think it's played out, we gotta think of something new, like head butting or perhaps spelling out a cool acronym with our hands and arms.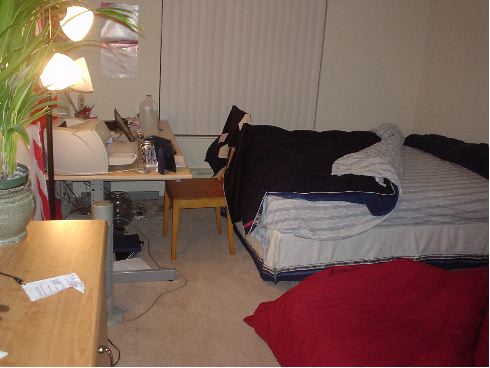 Ah it's great coming home to an actual bed and not the dirty ass carpet. Pretty soon Conor is going to get a bigger bed, and then I thought we could make a Super Bed, however the idea has been shot down and hyper-analyzed by many people.
End of night.
Friday, January 16, 2004
My roommate Cocky Conor says that The House has about two good captions and lots of pictures of Ben Taft. Basically, he was telling me that The House sucks. I won't tolerate such insolence, and he said that he was going to make a better page called "Conor's Page." Let's see if he actually does it, and if he does it will be on here for y'all to critique.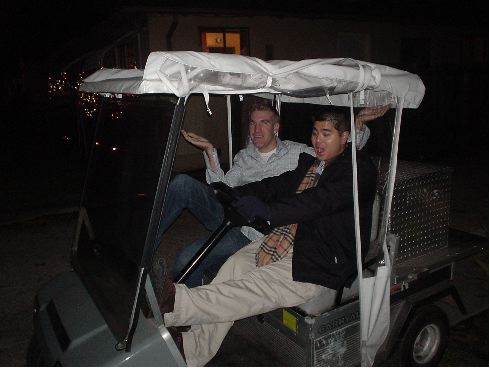 Burkholder's last night in the US before he departs to Sweden once again. What are you guys doing in the golf cart? Do you want to be charged with another felony- GTA again!?
King's Cup is fun, except for when Urn sloppily spills beer on the cards and the people playing get all distracted and do other things.
Sara looking hella sleazy. Where's your silk shirt and big gold chain?
Representing the West Menlo, MA U KNOW.
Just think, if Lindsey was crying and screaming instead of smiling, this picture would be completely different, and I'd have to report Huens to the po-lice.
Look at Urn's "E" on her shirt. Wouldn't it be cool if your name didn't begin with the letter on your shirt? People would be like, "Hey fucker what's that letter stand for?" And you can quip back, "Well it's the first letter of my favorite word, loofah."
Fuck it I can't think of a caption.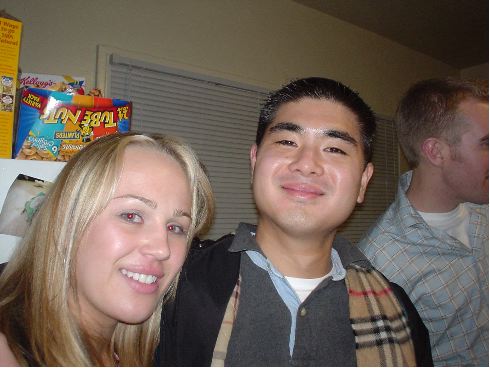 Sierra loves lace, Sierra loves lace. She said that kids used to tease her about her affection for lace, and I thought, "That's quite strange."
"Hey dude, I know a lot of dudes, but you are by far the greatest one I know." Well, thank you.
Lindsay described this as a Lindsay sandwich, although Sierra stepped in the way.
There we go, now you can enjoy the Lindsay sandwich without interruption, much like a salami/pastrami sandwich from Zanatto's.
Amy: "Who are you? And where's this going? The Internet? What's it doing there?" So many questions, so little time (whatever happened to that Mary Kate and Ashley show? Actually, whatever happened to them? I bet their 18th is going to be a big deal.)
"Hey look our boyfriends bought us the same necklace!" Neat.
Who doesn't want to take a picture with Lindsay? Here's John looking stylish in his red jacket, and Huens looking as homo as ever. But come on Linds, Coors? Where's the affinity for Buddy Light?
And heeeeeeeeere's Mona! No no, I found out her name is Deidra, however once introduced, I cannot call anyone by any other name, it is already programmed into the brain like a robot.
End of night.
Saturday, January 17, 2004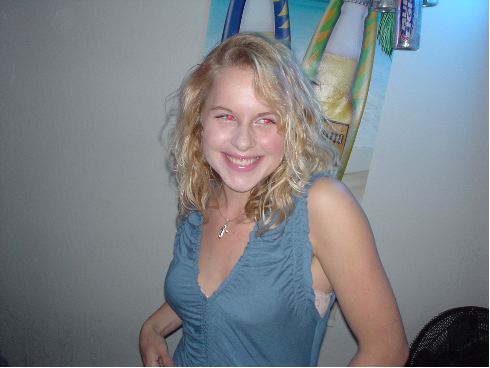 Back from eating shrimp on the barbie (and no I'm not talking about Red Lobster), Hunnah decides to grace us with her non wheat-eating self. Dragging out syllables in people's names is great fun, like Hunnnnnnah, or Jennnnnna. What other names can you think of?
A few of Huens' buddies came down from Sac to kick it in SC. Here's John with the "bling bling," the dude I slapped on Halloween. But he was good about it, and so he's a good guy in my little book.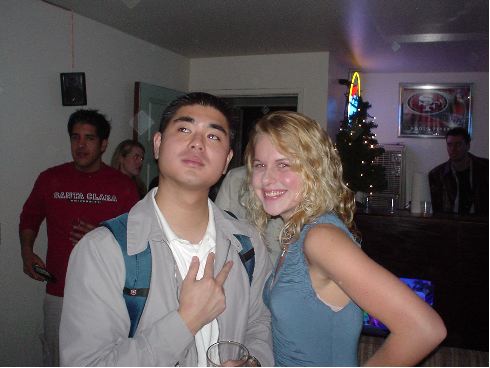 What an honor being able to take a picture with the lovely Hunnah. Did you know?- in high school she went to a dance with that one model boy Drew.
Katherine: "You slapped John? Sick."
Here's the birthday girl Camille. I was drunk (surprise, surprise) and didn't remember singing her Happy Birthday (did you know that shit's copyrighted) and so I turned off the music and yelled for everyone to serenade her. A big black guy goes, "Hey turn the fucking music back on we already did this!" And you can't argue with that, so I turned the music back on, went into the storage closet and cried.
The girls' water polo team had initiation and so they made the recruits dress up as silly things, like this here banana. I didn't know this at the time, and was thoroughly confused.
Though I look like a complete retard, Darsie is underrepresented on The House like the old colonists, so I will sacrifice some of my self dignity for a picture.
Whoever took this picture must be in love with Leland because this is more of a picture of him then the issue at hand, The Marquis of Oxenford, XIV vs. one Kelly. As you can see, my cup is quite empty, and her's is quite full.
"You slapped me in THE EYEEEEEEEEEEEE!!!!!!!!" Good times. In my numerous polls I take, Leland is frequently in the Top 2 for the hottest guy at Ice (not including me, of course, cause that just wouldn't be fair- like taking ice cream from a small child).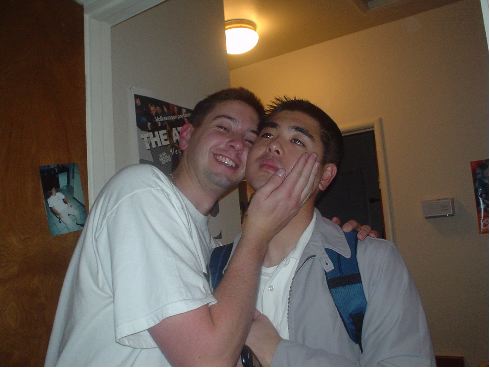 I won't lie, this is absolutely the GAYEST picture I've ever taken. I debated whether to put this up or not, but since it's Ben being extremely homo, I decided to share it with y'all. I think he momentarily lost judgement and thought I was Urn.
End of night.
Sunday, January 18, 2004
Our house was a fucking war zone. Things were gafted, glass was broken, toothbrushes were "nut sacked," and the worst was all this popcorn on the floor. Who the fuck makes popcorn only to throw it around like rice on a wedding?
When you got 4 dudes in a car driving to In 'N Out (by the way I boycott that place the last two times I've specifically axed for grilled onions and NOT Animal Style, and they've cooked it Animal Style) weird conversations can be heard. This particular ride- cannibalism.
God who are you? Katherine was cornering over at Emily and Trisha's place which is across the street from us. As Ben and I were peeping in their window with binoculars, we got caught and they came over, each with a prop.
You may notice that I'm wearing a ring. My ma always says that the only jewelry a man should wear is a fine timepiece, but when Emily's around I sometimes wear her ring for fun.
I can't believe they did it... they took off the picture. I don't even know what to say.
Another head to head comes down at 10 Spot.
Good form, good form.
But apparently not good enough. Jeff Larson came out the victor, and apparently I am not the bright star I thought I was. The score is 1-1, a tie. We'll need to go again.
Bryce, Skyler and Dave live so fucking far off campus it made me want to cry. But where there's good people and free beer, we are there. Nicholas. S. Bitch, do you know the dude in the back? He's from the SLC and says he knows you.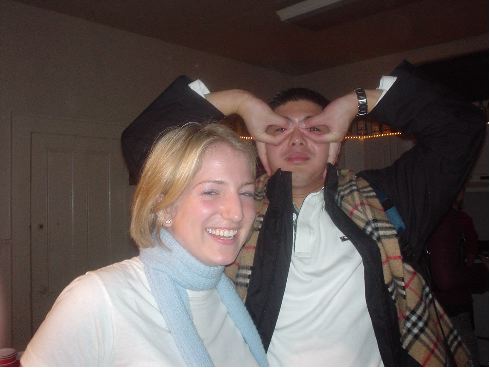 'ere's Diane Snodgrass aka "Princess" because of her snooty last name and her odd resemblance to the late Princess of Wales, Diana.
Another birthday girl, this night it's Biz. We finally agreed that we are equally ghetto.
Because I am a smooth, pragmatic utilitarian, I gave Emily a Burberrrrrrrrrrrrrrry scarf to use as a head shawl like she's a poor working girl from Eastern Europe.
Making the box, i.e. doing that waltz with one Sara Brown. Lucky me.
End of night.
Wednesday, January 21, 2004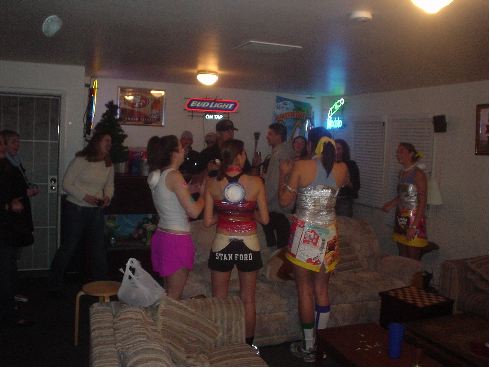 I was just kicking back with a 40 oh zee of The King, watching the band A Flock of Seagulls being reunited on VH1 (By the way a fucking great show. They also did Berlin with Dave Diamond, who flies out of my flight school. And they showed my flight school on the telly it was great.) when I hear "Yasu!" And then all these girls showed up in costume. Yes it is rookie night for an unnamed extra curricular activity.
They split up into different groups and they had to go to a bunch of houses for a scavenger hunt and to drink a few. Our house was blowjobs- vodka, kahlua and whipped cream. And the kicker is you're supposed to take it between a dude's legs without using hands. Here, we see this girl selling Charles short.
Huens seemed to be enjoying himself, shouting out orders like a general.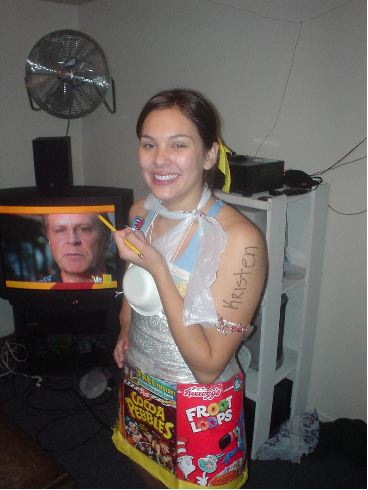 Ay Kristen Harvey, how is you? I sincerely hope that you and your friends ate the cereal and didn't dig in the trash like a savage beast. In the background you can see the VH1 show I was watching. Luckily I was able to catch the end where they sang "I Ran." If I missed that I would've flipped shit.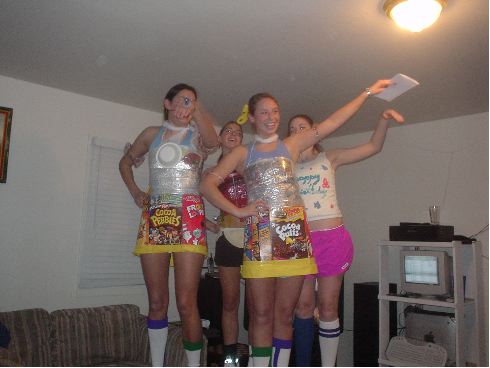 Serenading us with "I'm A Little Teapot," the first group.
Brenna gets the distinction of being the first girl I met at SC while moving in. Remember that Burkholder? Nice Burberrrrrrrrrry shirt there Huens. Oh by the way Serene and I are planning a Burberrrrrrrry modeling section on The House, so if you'd like to be in it, be sure to holla atcha boi. Or girl.
A line of blowjobs. Oh if only this were the real thing these guys would be much happier.
Three girls for Huens. This picture is fucking hilarious because of the girl on the right's eyes. Holy shit if I were her I wouldn't want to be on some random dude's website looking like that. Hah.
One of the items on the list of things to get was a hicky, and at first Huens didn't do it hard enough (or so Kristen says) and she went ahead and demanded another one.
And 'ere's the second group.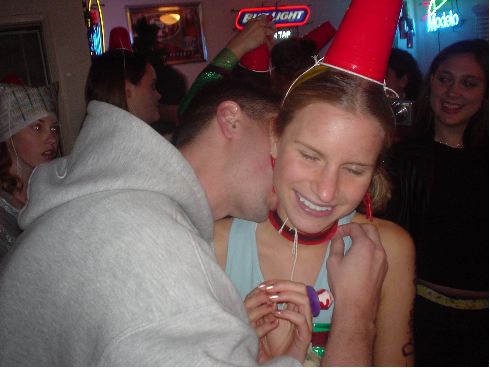 How many times in your life do random girls come up to you and ask for a hicky? I guess we aren't in 7th grade anymore but whatever.
Third and final group. The girl in the post sack was funny as shit, being all gangster.
And extremely drunk, for she fell the fuck off the table.
"Yeah man, what the fuck?"
I guess I'll have a go.
This one took a liking to B. Taft and got a hicky on her boob. Ben was quite proud of himself and carried a smug smile for the rest of the night, for he took her to his "shangri la."
Bu bye girls. Have a good night and don't get run over by a car on your endeavors.
Huens, stop molesting Lindsey. That is _____'s job.
Jesus Christ Ben are you posing for a kid's cereal commercial or something?
Catie was all about singing the DG songs which were quite lewd. And notice her sweatshirt is inside out. Apparently you can't drink while wearing the sorority letters.
"You're the one that's gay. I'll burn your house down."
We just realized that Mona kinda looks like Susanna.
Don't fuck with Lindsey, for she scratched Huens like a cat and kicked me like an ostrich. Although not in the jaw like they usually do.
And the massage train. Do you think it's better to be in the middle where you're always giving one but you always get one or on the ends where you can take a break but you only get one? Personally I like the middle because then you get to see two people's game.
End of night.
Saturday, January 24, 2004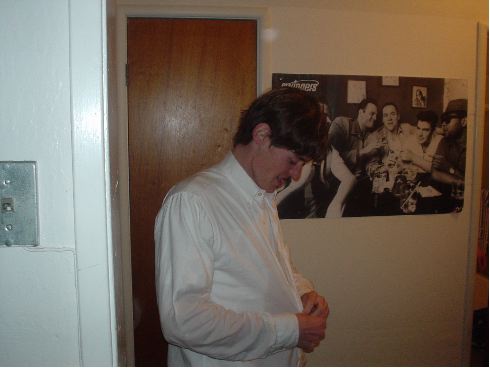 It's bid night for one Pi Kappa Alpha, and Mr. Dallas comes running in, wet with champagne, saying that he had 15 minutes to shower and change.
I never realized how drunk Larson gets. Good times I need to hang with him more. And he also needs to go to the U.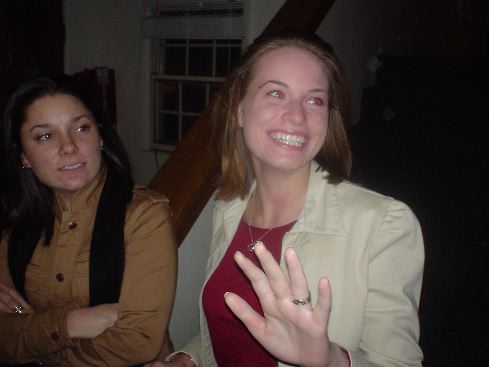 Who was one of the girls that fouled out during Cream Rose? Harrison!
I got on a winking phase today because I got a Price Club card where I winked at the camera and the lady was like oh that's so cute however it's not working here for Ferd and I look mentally challenged.
Huens and I rolled to some party where people were sitting in a corner playing a numbers game when I look over and see a familiar face. Oh yes it's Jill from high school. She's like, "My prophecy is fulfilled I knew I'd see someone from SH!" Right, cause we had like 7 people coming in. For sure.
So New Jersey huh Urn? I never knew...
Charles and his friend Tasha. Tasha was nice enough at the end of the night to give me a ride home. Or else I would've had to carry Cisco and Pam home, not an exciting proposition.
Here's Pam. For those of you who went to grade school with me, doesn't she look like Marissa San Fillipo?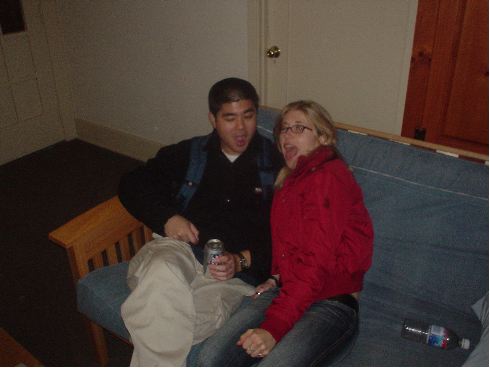 Kelly I like the glasses and the school teacher look. And of course the fabulous smile like Erik Estrada of CHiPs and The Surreal Life fame.
Uh I don't know what was going on but there were a large numbers of dudes talking shit to each other and here's Mike Harvey documenting it like he's from NBC. Mike Harvey rules, I thought I'd get to see him kick ass but then the cops showed up yelling, "Get the fuck inside! Get the fuck inside!" I was like, "Uh.... officer I just need to go to the U."
First time at the Clucker is always the greatest.
Charles and I wish you a pleasant day!
End of night.
January 25, 2004